Our history...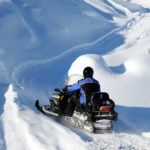 The ancestor of our snowmobiler's Club is the Club Auto-Neige Lac Doré which was founded in 1967 by Mr. Robert Bélanger. The Club then had 36 membres. In 1969, Mr. Léonard Dion, a resident of Duhamel and Mr M. Robert Bélanger got together to create a new Club which included the village of Duhamel. This is how was born the Club as we know it today. It was incorporated in 1971, and it eventually included La Minerve and the Club du Lac-des-Plages in 1995.
Message from the president
We have had a good season, although a little short in our region.  Thanks to all those who supported us and thanks to our volunteers and groomers operators: they did a great job for all of us!
This year, we had at our disposal a new grooming machine which was positioned at La Minerve. This purchase was made possible thanks to a grant from Economic Development Canada and another from the FCMQ, and of course income from the sale of trail permits. We also carried out work on the trail, including the installation of new culverts in the Lac Chevreuil area with the help of the Quebec Ministry of Transportation, the FCMQ and our own funds.
As 2021 marked the fiftieth anniversary of the founding of our club, we have adopted a new colorful and dynamic logo that displays one of the symbols of our region, namely a deer snowmobiler! We hope you like it!
I wish you a pleasant summer and I hope to see you next season on our trails.
Bruno Picard, President, Les Maraudeurs Inc - Club 13-760, 160 rue du Parc, Duhamel, QC - Club 13-760
Useful links
FCMQ
Website of the Québec Federation of Snowmibilers' Clubs where you will find usefull information about snowmobiling in Québec.
Weather in Duhamel
Find out what the whether is and will be in Duhamel and the region.
Snowmobile ride chez Les Maraudeurs, a video realized by Drône Images
TVA documentary
Documentary (available in French) realized by the team of TVA - Salut Bonjour in January 2017 in cooperation with Tourisme Outaouais and Les Maraudeurs Inc.