Our history...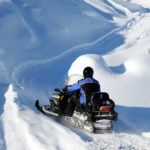 The ancestor of our snowmobiler's Club is the Club Auto-Neige Lac Doré which was founded in 1967 by Mr. Robert Bélanger. The Club then had 36 membres. In 1969, Mr. Léonard Dion, a resident of Duhamel and Mr M. Robert Bélanger got together to create a new Club which included the village of Duhamel. This is how was born the Club as we know it today. It was incorporated in 1971, and it eventually included La Minerve and the Club du Lac-des-Plages in 1995.
Message from the president
The 2020-2021 snowmobile season is over in our region. It was an atypical season both in terms of climate and sanitary conditions. We would like to thank the landowners who allowed us to pass through their land throughout the winter. Thank you also to the snowmobilers who encouraged us by obtaining their trail passes from our club (more than 500 of you did so this year), by following us and participating on our Facebook page throughout the season or by respecting the instructions of public health which made it so that we were able to practice our activity this year. Thank you to the businesses in the region who have adapted to health measures to provide snowmobilers with the services they need. Thank you to the municipalities of the region who support our activity each in their own way. Finally, thank you to our volunteers and our grooming machine operators who did a remarkable job.
We are already preparing for the next season. Indeed, we have undertaken to replace our 2007 Case / Gilbert grooming machine which is based in La Minerve with a new John Deere / Gilbert grooming machine. To do this, we have received support from DEC and the FCMQ, and the club is also investing its own resources. We will also begin work as soon as possible to upgrade culverts and repair some trail segments.
Finally, following the death of our founder and pioneer, Mr. Robert Bélanger, the club's board of directors decided to rename the local Lac Doré trail, "Sentier Robert Bélanger" in his honor because that is where it all began. for our club. An event will be organized in due course to proceed with the installation of the signage at the entrance to the trail.
On behalf of the club's board of directors, I wish you an excellent summer season and look forward to seeing you for the next season.
President, Les Maraudeurs Inc - Club 13-760
Useful links
FCMQ
Website of the Québec Federation of Snowmibilers' Clubs where you will find usefull information about snowmobiling in Québec.
Weather in Duhamel
Find out what the whether is and will be in Duhamel and the region.
Snowmobile ride chez Les Maraudeurs, a video realized by Drône Images
TVA documentary
Documentary (available in French) realized by the team of TVA - Salut Bonjour in January 2017 in cooperation with Tourisme Outaouais and Les Maraudeurs Inc.