Our history...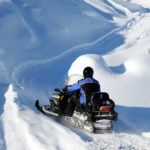 The ancestor of our snowmobiler's Club is the Club Auto-Neige Lac Doré which was founded in 1967 by Mr. Robert Bélanger. The Club then had 36 membres. In 1969, Mr. Léonard Dion, a resident of Duhamel and Mr M. Robert Bélanger got together to create a new Club which included the village of Duhamel. This is how was born the Club as we know it today. It was incorporated in 1971, and it eventually included La Minerve and the Club du Lac-des-Plages in 1995.
Message from the president
Duhamel, November 18, 2022
As we prepare for a new snowmobile season, I want to thank everyone who supported us last year and we hope to see you all back on our trails again this year.
As you know, our activity is largely based on the 4,500 volunteers who devote more than 800,000 hours a year to trail maintenance and repair, signage, security, not to mention the management of clubs affiliated with the FCMQ. Our business also depends on the thousands of landowners who, out of courtesy, grant rights of way to snowmobilers. It is thanks to these tens of thousands of people, volunteers and owners, that snowmobile enthusiasts can practice their sport and explore all regions of Quebec on a network of more than 33,000 km. This is a unique model, a real gem that it is up to us to preserve and develop.
The major event for us this season will be the transition from the current mode to a new mode of financing the clubs. Indeed, the current system is based mainly on income from the sale of trail permits. This formula created a situation in which clubs with large territories and few members struggled to fulfill their mission, while others that benefited from a large pool of population had revenues far exceeding their needs. The FCMQ therefore committed three years ago to a reform of the club financing model with the aim of better distributing revenues and better helping clubs with machinery and infrastructure.
Starting this year, the financing of our operations will therefore be based mainly on the hours of surfacing and the size of the territory, without forgetting a modest part of the income from the sale of trail permits.
We are a large family of snowmobilers who know how to support each other, from Gaspésie to Outaouais, from Abitibi to the North Shore, including Lac-St-Jean and all regions of Quebec! Our solidarity at the provincial level and our loyalty at the local level are vital forces guaranteeing a promising future for our activity! Our volunteers, board members and I fully appreciate your continued support.
Have a great 2023 snowmobile season!
Bruno Picard, President, Les Maraudeurs Inc, 160 rue du Parc, Duhamel, J0V 1G0
Useful links
FCMQ
Website of the Québec Federation of Snowmibilers' Clubs where you will find usefull information about snowmobiling in Québec.
Weather in Duhamel
Find out what the whether is and will be in Duhamel and the region.
Snowmobile ride chez Les Maraudeurs, a video realized by Drône Images
TVA documentary
Documentary (available in French) realized by the team of TVA - Salut Bonjour in January 2017 in cooperation with Tourisme Outaouais and Les Maraudeurs Inc.