Our history...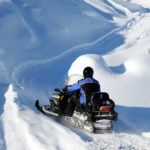 The ancestor of our snowmobiler's Club is the Club Auto-Neige Lac Doré which was founded in 1967 by Mr. Robert Bélanger. The Club then had 36 membres. In 1969, Mr. Léonard Dion, a resident of Duhamel and Mr M. Robert Bélanger got together to create a new Club which included the village of Duhamel. This is how was born the Club as we know it today. It was incorporated in 1971, and it eventually included La Minerve and the Club du Lac-des-Plages in 1995.
Message from the president
AN ATYPICAL SEASON
COVID 19 - PLEASE OBEY HEALTH REGULATIONS.
The FCMQ, in collaboration with the Tourism Industry and Quebec Public Health, has developed a plan of health measures to ensure the safety of snowmobilers and volunteers during the current pandemic period. The plan has  been approved by  Public Health Authorities which allows us to consider a snowmobile season that meets Government regulations.  HOWEVER, IT IS IMPORTANT THAT EVERY SNOWMOBILER ADHERE TO HEALTH REGULATIONS. It is necessary to adapt the snowmobile practice to the conditions that prevail in each region and it will be up to each snowmobiler to ensure that his route is safe. Concretely, this will require a careful and proactive approach when the time comes to plan and execute the excursions. It is the responsibility of each snowmobiler to respect the health rules for his own good and that of others.
SNOWMOBILERS BE VIGILANT FOR COVID 19
There are rules that apply specifically to our activity. For example, when you ride a snowmobile, for two people to be able to use the same snowmobile, they must stay at the same address. Riding with friends is permitted, but wearing a mask or a face cover and a physical distance of two meters must be respected during breaks. WHEN USING REFUGES, PLEASE FOLLOW THE RULES THAT ARE POSTED, THEY ARE THE SAME AS IN ANY OTHER PLACE IN THE PROVINCE!!!
In addition, it is recommended to take the following precautions before leaving your home for excursions: establish your routes and share them with your relatives or friends; make sure that services such as gas stations, restaurants and hotels that you want to visit on your journey are open; Avoid peak hours for your stops to avoid not being able to use the service due to lack of space. Access to services may be limited, so don't forget to bring your non-alcoholic drinks, snacks, lunch, etc. Carry with you when you hike: replacement masks or face covers; hydroalcoholic gel of at least 60%; disinfectant wipes; disposable handkerchiefs; "ziploc" type zipper bags to dispose of your used effects. Plan to pay by card when shopping during the hike.
TRAIL INTERCEPTION PROCEDURES
In order to ensure the health and safety of all, a distance of 2m must be respected at all times. Interceptions on trails must be made without any contact with the personal documents of the snowmobilers. The trail wardens will ask you to present your documents and if necessary, a photo of the trail permir could be taken. On trails, I respect safety! The trail guards are more than 1200 volunteers dedicated to your safety!
TOOLS FOR SNOWMOBILERS: NEW THIS YEAR
The interactive map on the FCMQ's website and the iMotoneige application are very useful tools for snowmobilers. This year, in addition to letting you plan your route, the app also allows you to add stops like a restaurant. Also new this year, these tools will provide you with trail and snow conditions - data taken from Environment Canada. Trails that have not been groomed for over a month will now be classified as "not available". At the start of the season, the trails will therefore all be in this category.
On behalf of the Board of Directors, I wish you a great 2021 snowmobile season and I look forward to seeing you on our trails!
President, Les Maraudeurs Inc - Club 13-760
Useful links
FCMQ
Website of the Québec Federation of Snowmibilers' Clubs where you will find usefull information about snowmobiling in Québec.
Weather in Duhamel
Find out what the whether is and will be in Duhamel and the region.
Snowmobile ride chez Les Maraudeurs, a video realized by Drône Images
TVA documentary
Documentary (available in French) realized by the team of TVA - Salut Bonjour in January 2017 in cooperation with Tourisme Outaouais and Les Maraudeurs Inc.