Our history...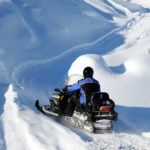 The ancestor of our snowmobiler's Club is the Club Auto-Neige Lac Doré which was founded in 1967 by Mr. Robert Bélanger. The Club then had 36 membres. In 1969, Mr. Léonard Dion, a resident of Duhamel and Mr M. Robert Bélanger got together to create a new Club which included the village of Duhamel. This is how was born the Club as we know it today. It was incorporated in 1971, and it eventually included La Minerve and the Club du Lac-des-Plages in 1995.
Message from the president
THANKS TO OUR MEMBERS!
The online sale was a huge success last season. Many of you obtained your trail permit from our club Les Maraudeurs Inc, Club 13-760, via the FCMQ website, i.e. 489 annual permits and 68 daily permits. I would like to thank everyone who supported our club because it is our main source of income. This support will have enabled us to improve our financial situation but we need to continue to increase our income if we are to be able to face the major expenses to come such as the replacement of our snow groomer which is based in La Minerve. Thank you for staying loyal to us for the 2021 season and do not hesitate to invite your friends to join us because we are located in a very beautiful region in which snowmobiling plays a crucial role for the economy of rural communities in which we are established.
You will find under the TRAIL PERMITS tab all the information necessary to obtain your 2021 trail permit.
THANKS TO THE LAND OWNERS
If we are able to practice our favorite winter activity, it is in large part thanks to the landowners who grant us right of way over their property. I would like to thank them on your behalf while inviting you to continue to demonstrate good citizenship at all times, for example by staying on marked trails and respecting speed limits.
THANKS TO OUR VOLUNTEERS
Our board of directors is made up of a dozen dedicated volunteers, some of whom have been working for the club for a few decades, who take on various tasks: safety, signage, winter maintenance of trails, management of rights of way, the realization of trail repair work, administration, communications, maintenance of machinery and relations with local businesses and local authorities. We can also count on volunteers who are not members of the board of directors to help us with various tasks such as signage, safety and trail work. I want to thank them all on your behalf and I invite you to support them when the opportunity arises.
On behalf of the Board of Directors, I wish you a great 2021 snowmobile season and I look forward to seeing you on our trails!
President, Les Maraudeurs Inc - Club 13-760
Useful links
FCMQ
Website of the Québec Federation of Snowmibilers' Clubs where you will find usefull information about snowmobiling in Québec.
Weather in Duhamel
Find out what the whether is and will be in Duhamel and the region.
Snowmobile ride chez Les Maraudeurs, a video realized by Drône Images
TVA documentary
Documentary (available in French) realized by the team of TVA - Salut Bonjour in January 2017 in cooperation with Tourisme Outaouais and Les Maraudeurs Inc.