Our history...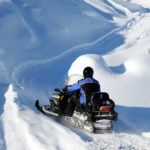 The ancestor of our snowmobiler's Club is the Club Auto-Neige Lac Doré which was founded in 1967 by Mr. Robert Bélanger. The Club then had 36 membres. In 1969, Mr. Léonard Dion, a resident of Duhamel and Mr M. Robert Bélanger got together to create a new Club which included the village of Duhamel. This is how was born the Club as we know it today. It was incorporated in 1971, and it eventually included La Minerve and the Club du Lac-des-Plages in 1995.
Message from the president
A MAJOR CHANGE FOR THE 2020 SEASON: ALL TRAIL PERMITS ARE SOLD ONLY ONLINE!
THANK YOU!
Let me first thank the snowmobilers who bought their trail permit last year from our club. Over the last three years, we have grown from 365 to 456 members, which has allowed us, among other things, to increase grooming hours from 643 hours in 2017-2018 to 926 hours in 2018-2019. Our trails have been of an unparalleled quality for the benefit of our members and all snowmobilers who have come to our territory.
MAJOR CHANGE THIS YEAR: TRAIL PERMITS CAN ONLY BE PURCHASED ONLINE
Indeed, from now non, trail permits are available only on the internet via the FCMQ website. It will no longer be possible to buy them from local merchants. I take this opportunity to thank the merchants of the region and some of our members who have helped us in the past to sell trail permits. To help you with your purchase, we provide instructions on how to proceed under the Trail Permit tab above. This information is also available on the FCMQ website (fcmq.qc.ca).
MEMBERSHIP AND REVENUES
However, there is one thing that does not change: the sale of trail permits continues to be the main source of revenues for the club and we therefore need your support. When you buy, you will have to choose the club you want to support. It will be important to identify you with our club numbered 13 (for the Outaouais region) and 760 (which is the number of Les Maraudeurs Inc) so that we can receive our share of the income from the sale of trail permits. We invite you to renew your confidence in us for the 2019-2020 season and also invite your family and friends to do so.
WE NEED VOLUNTEERS
I take advantage of this message to invite those who can to get involved with the club as a volunteer. The work accomplished by the members of the Board of Directors includes: secretariat, sale of trail permits, accounting, trail maintenance, signaling, security, communications, repair and construction work,  etc... If you are interested to become a volunteer, please send us an email to lesmaraudeurs@hotmail.ca and we will call you to discuss your interest and our needs.
On behalf of the Board of Directors and on my own behalf, I wish you a great snowmobile season and look forward to seeing you on our trails!
President Club 13-760 Les Maraudeurs Inc!
Useful links
FCMQ
Website of the Québec Federation of Snowmibilers' Clubs where you will find usefull information about snowmobiling in Québec.
Weather in Duhamel
Find out what the whether is and will be in Duhamel and the region.
Snowmobile ride chez Les Maraudeurs, a video realized by Drône Images
TVA documentary
Documentary (available in French) realized by the team of TVA - Salut Bonjour in January 2017 in cooperation with Tourisme Outaouais and Les Maraudeurs Inc.