Our history...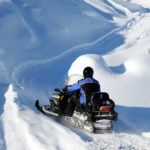 The ancestor of our snowmobiler's Club is the Club Auto-Neige Lac Doré which was founded in 1967 by Mr. Robert Bélanger. The Club then had 36 membres. In 1969, Mr. Léonard Dion, a resident of Duhamel and Mr M. Robert Bélanger got together to create a new Club which included the village of Duhamel. This is how was born the Club as we know it today. It was incorporated in 1971, and it eventually included La Minerve and the Club du Lac-des-Plages in 1995.
Message form the President
Help us maintain quality trails...
The territory of the Club de motoneigistes Les Maraudeurs Inc includes the municipalities of Duhamel, La Minerve and Lac-des-Plages. This region is nestled within the Outaouais, the Laurentides and the Papineau-Labelle Reservation. It is a unique natural environment and a great stepping stone for your excursions on the trails of these regions.  Over the last few years, our Club has been able to count on loyal members who have contributed to its development and I thank them warmly for that. Since the proceeds generated by the sale of Trail Permits constitue the main source of income for the Club, I invite members, their friends and other snowmobilers who practice this activity in our area to purchase their Trail Permit for the 2017-2018 season from our Club. This can be done in person, by mail or through the internet. You will find information to that effect under the « Trail Permit » tab.
Thank you for your loyal and continuous support and have a nice 2017-2018 snowmobiling season!
Yours sincerely,
Alain Christoff
President, Les Maraudeurs Inc